Jonas has set a new WUCA WORLD RECORD with 4.37.15!
Världsrekord av svensk 54-årig finansentreprenör.
Idag slog Jonas Bohr som 54 åring världsrekord på 100 km, 100 miles och 200 km Outdoor Track på Volvos test bana i Hällered utanför Göteborg. Jonas lyckades att cykla 200 km på tiden 4 timmar 37 minuter med en snitthastighet på 43,3 km/h. Han var hela 7 minuter snabbare än gällande officiella rekord i åldersgruppen 18-49 år administrerat av World Ultracycling Association (WUCA) och krossade sin egen åldersgrupps rekord.
Det är en fantastisk resa som Jonas Bohr gjort när han nu som 54-åring slår tre världsrekord. Jonas började cykla som 43 åring och visade snabbt imponerande resultat. Trots flera allvarliga olyckor och skador så har han alltid rest på sig och nu står han här som världsrekordhållare alla åldrar vid 54 års ålder. Jonas har fortfarande potential att utvecklas och ses idag som något av ett fenomen inom cykelsverige
Jonas är en entreprenör i finansbranschen som några år efter 40 fick höra av sina barn att han började få ölmage och började pendla till jobbet. En imponerande resa påbörjades där hans fysik och prestationer hela tiden har utvecklats. Du är aldrig för gammal för att börja träna och testa nya gränser för vad kroppen orkar. Jonas och har sedan han börjat cykla för 10 år sedan kontinuerligt tränat ca 1500 mil per år.
"Fantastiskt roligt att ta världsrekord vid min ålder. Det var tuffa förutsättningar med hård vind och regn men jag kände att jag hade bra fart och kontroll under merparten av alla 33 varv på denna fantastiska utomhusbana. Ett stort tack till min familj och alla som stöttat mig under denna resa. Och till hela Sverige, det är aldrig försent att börja träna och nå resultat som man inte tror är möjliga".
Bilder finns här:
För intervju kontakta:
Jonas Bohr 070 932 03 20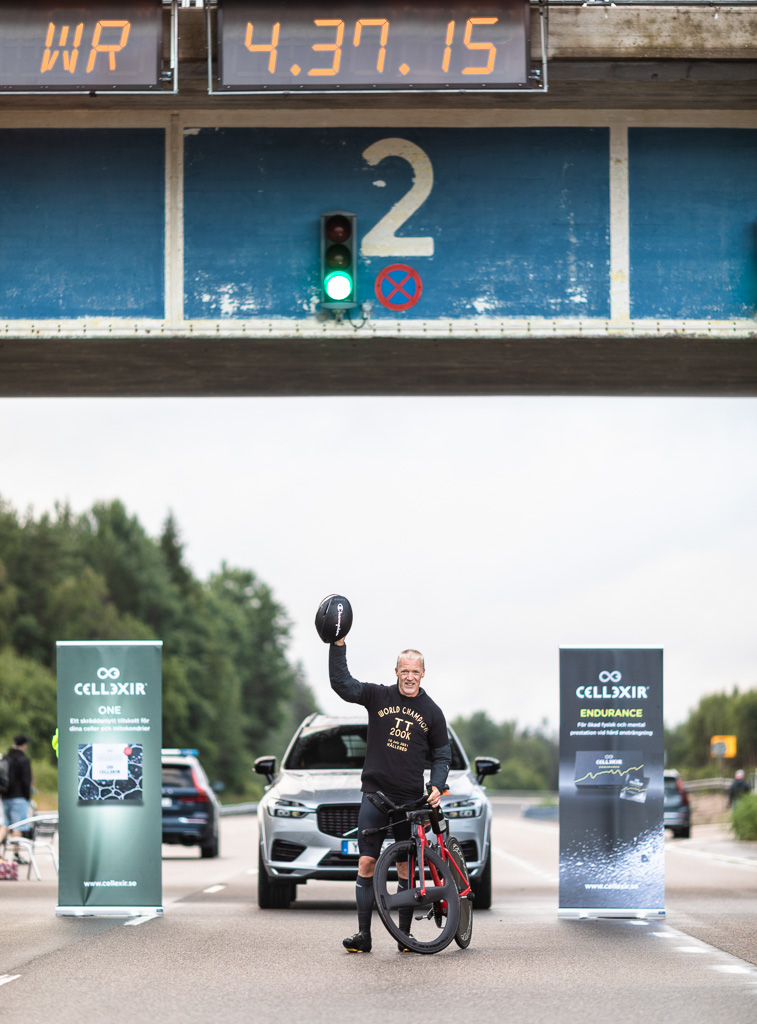 Jonas announces partnership with Specialized and new documentary
I Am Specialized. So Proud to be representing the worlds bike brand nr 1. For me human performance is astonishing, but the equipment and bikes that I ride plays a huge role as well. So for 2022, I've decided to partner with Specialized to further increase my performance and reach goals on a completely new level – STAY TUNED!
Specialized has been the leader in bikes but also equipment since 1974. With riders like Sagan, Remco, Alaphillipe and Anna Van der Breggen they have accomplished history and I've always kept my eye on them. Their bikes for sure, but also their Body Geometry products, like shoes and saddles.
I just got to test the wonderful new Crux gravel bike for a couple of rides and the 825 g frame is a dream in handling responsiveness and stiffness. Can't wait to hop on the industry leading Tarmac SL7 as my road bike and the mythical TT Shiv for Time Trialing and new solo record attempts. So honored that Specialized will support a "young talent" at 55..
There will be a TV documentary produced this year based on my journey with cycling on the theme Growing Young – from beginner at 44 to world record holder at 54. Exciting times ahead stay tuned!